If you watched the landing of the rover you may have noticed this guy.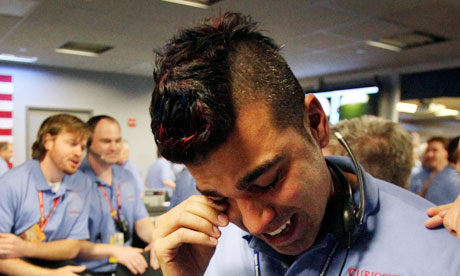 The Mohawk Guy after landing (Guardian)
He is the flight director of the mission and has become a celebrity of sorts thanks to his hair style which he got just for the landing. I don't know what you think but it looks awesome. Remember, this guy is good at what he does (aerospace engineering) so don't dismiss him quickly. Besides, it certainly livened things up during landing day! Even POTUS commented positively about it (why wouldn't he, he looks good with it).
Tune in to
Third Rock radio
to hear a special 2hr segment by him. It starts at 2000hr UTC on August 30. Long live the Mohawk guy!